The Peacock Parlour – A Burlesque Show
July 15
@
9:00 pm
–
10:30 pm
Seated Gig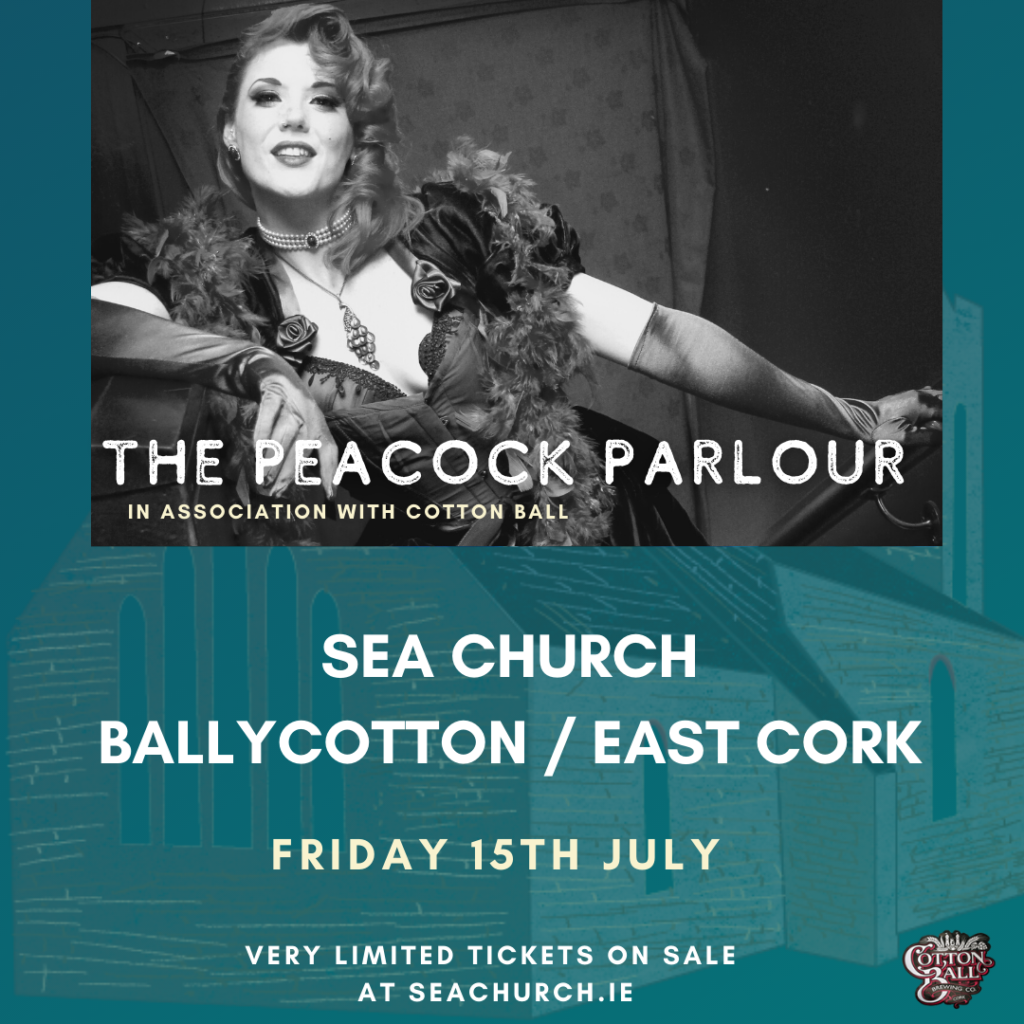 FOXY P.COX PRESENTS THE PEACOCK PARLOUR; A BURLESQUE AND CABARET EXTRAVAGANZA ORIGINATED IN CORK HELD IN VARIOUS VENUES AROUND IRELAND.
The Peacock Parlour is a carefully curated show created in 2012 by International Award-Winning Performance Artist & Producer Foxy P.Cox, with performers and acts specifically selected to compliment individual and bespoke events aiming to nurture a growing local scene as well as bringing national & international performers to inspire, tease and tantilate! We frequently feature a variety of performance styles from Burlesque & Cabaret, Showgirls, Magicians, Clowns, Circus & Sideshow to Belly Dancers and Boylequers, Drag Kings & Queens, Pole Dance, Aerial Antics, Art installations and Spoken word. There is something for everyone! After the huge success of the first show, it was obvious that Cork did not just want a great night of Queer Cabaret, it needed it! Changing venues with its growing popularity to give our expanding audience more comfort and better stage viewing. We pride ourselves on being an all-inclusive, gender fluid space for our performers as well as audience, participation is absolutely encouraged! This night is a great opportunity to bring a bit of glamour, so dress to impress!
WHAT TO EXPECT AT THE PEACOCK PARLOUR
The show has performers on stage every few minutes; it's a jam-packed night designed solely for your entertainment and viewing pleasure. This show does contain nudity, swearing and adult themes; it is not a night for the easily offended and is strictly over 18's. Featuring guest MCs to glue the magic together seamlessly between intriguing and beguiling performances. Those wanting to dress up in their glad rags will be delightfully entertained for a wonderful night out. We are always delighted to see the audience and staff dress up. It really creates a great atmosphere seeing hats, suits, corsets, feather boas and evening gowns and let's be honest, who doesn't have a hat, dress, evening gown, suit, or corset that's too glamorous to wear on a regular night out!? Now you have the perfect excuse.
This is not a play, but theatre of a different kind; There is no fourth wall, and our splash zone is reserved for front row seats but don't worry, it is a safe space for everyone. We always welcome a whoop, cheer, or a respectful cheeky wolf whistle for the performers at our shows, it helps them know how much you appreciate their art & hard work, the more love you show, the more we show!
Oh, and please don't touch the performers, they might bite!