The Illegals featuring Niamh Kavanagh
June 4
@
8:30 pm
–
10:00 pm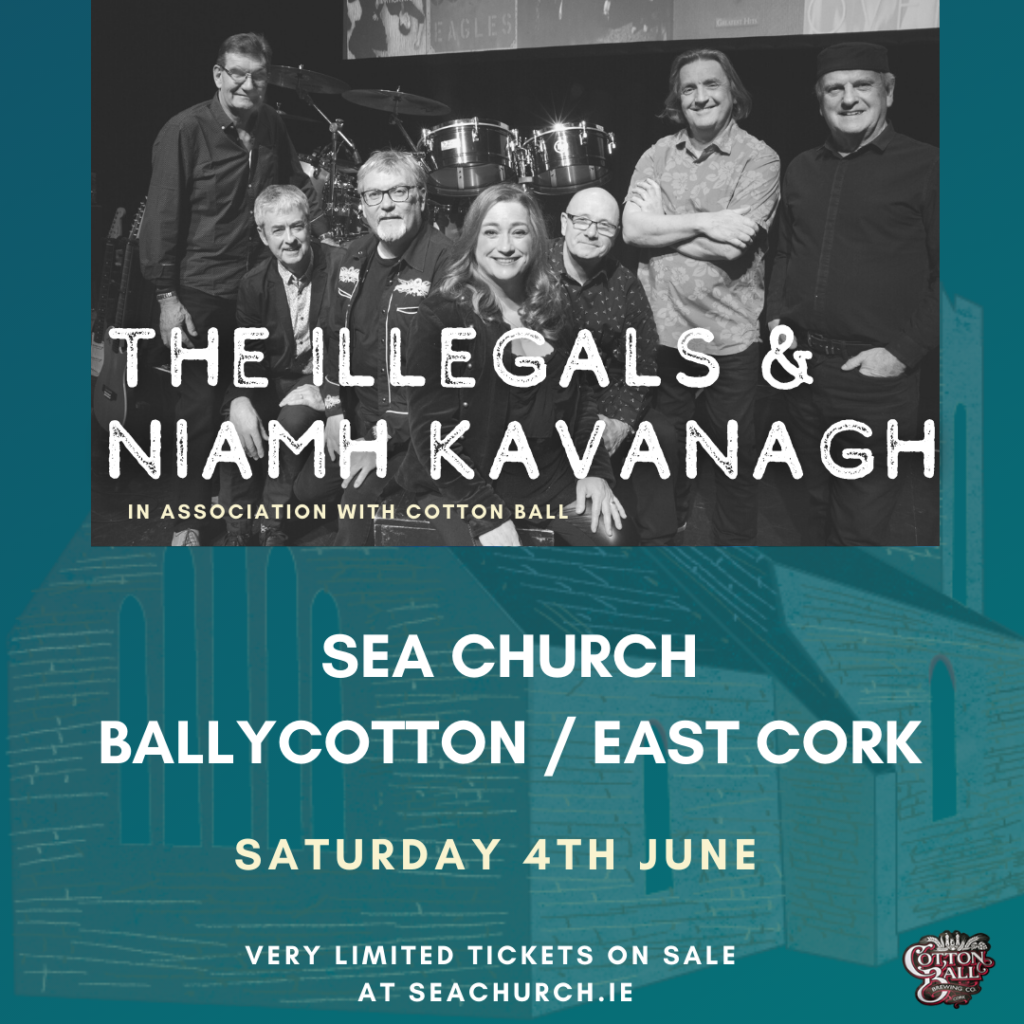 Oldshore Productions presents; THE ILLEGALS with NIAMH KAVANAGH
The Eagles and Fleetwood Mac classic rock revival show.
It's time for a post-lockdown, Christmas breakout with a memorable night of unforgettable songs from the world's two most iconic rock bands.

Led by Niamh Kavanagh, she of the mesmerizing voice and mischievous spirit, The Illegals will take you on a journey for three hours of soulful
harmonies, exciting riffs, blistering guitars and unforgettable songs.
The best of two legendary bands in one night? It's almost too good to be true.
Songs like "Take It Easy", "Dreams", "Life In The Fast Lane", "Don't Stop", "One Of These Nights", "Gold Dust Woman", "Desperado", "The Chain" and
"Hotel California" – and many others: all in celebration of two of the greatest rock bands of all time who have sat at the top of the billboards for over 40 years.

Aside from the headline albums the show consists of many other Eagles and Fleetwood Mac hits, as well as some of the solo work from individual
members and other 'connected' artists. The Illegals are a band of experienced musicians performing mostly in theatres and rock venues throughout the country, putting on a formidable show and giving thousands of fans an experience they won't forget.
–
"Niamh is outstanding – The Rolls-Royce of Irish Rock" – RTE
"Simply Stunning" – The BBC
"What a fantastic gig" – Facebook Review
–
BAND LINEUP & BRIEF BIOGRAPHY;
Niamh Kavangh vocals
Paul Dean vocals, guitars
Paul Megahey vocals, guitars
Jim Sisk vocals, keyboards, saxophone
Alyn Watson bass
Joe Hanratty drums
Peter Cochrane lead guitars
Quick Band Blog
The Illegal started on the back of the Hell Freezes Over album/video and tour of 1994. The band was founded by music producer Mud Wallace along with Torry McGahey (of The Freshmen fame) and Joe Hanratty. Jim Sisk and Paul Megahey joined the band in 1996/97. Mud sadly died in 2016 – a much lamented loss to the music scene in the north. Niamh joined the band in 1998 just five years after her famous Eurovision win. It was then that the band decided to expand its repertoire to include Fleetwood Mac – and to put Niamh's exceptional voice to the fore. Lead guitarist Peter Cochrane came on board in 1999 and Belfast-based singer Paul Dean brought his skills to the band in 2005. Torry eventually stepped back from the gigging world and Alyn Watson stepped in on bass guitar in 2013 – though Torry still occasionally gets his bass guitar out of the loft for a spin. Drummer Joe Hanratty is the band's longest-serving member having been behind the kit from the very start. The band has been playing as a seven-piece for over 14 years and is renowned for its blend of soulful harmonies, instrumental acrobatics and plain, simple craic. The band is now more popular than ever playing to packed theatres both north and south of the border and with many appearances on TV and radio as well as being a popular shout for festivals.