In One Eye, Out The Other
June 9
@
8:30 pm
–
10:00 pm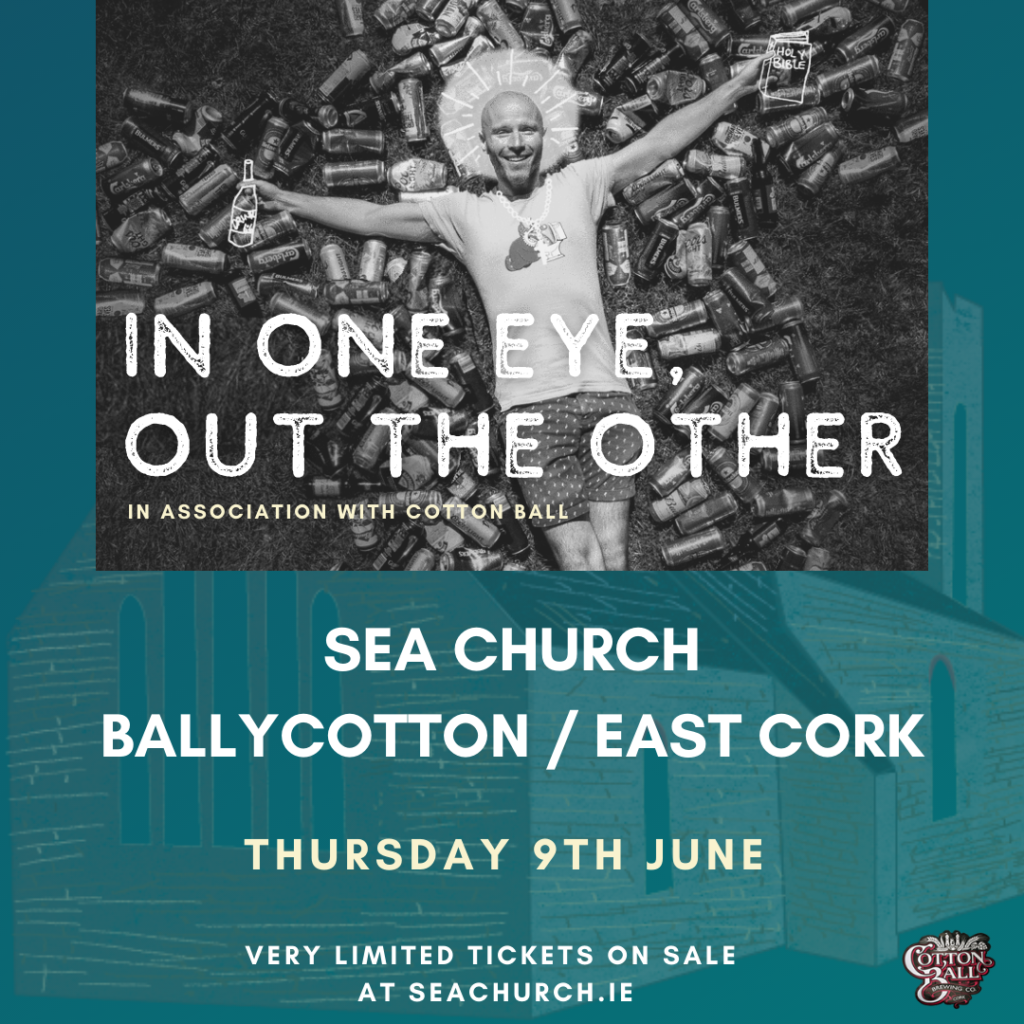 Tadhg Hickey is a comedian; actor; writer; director; musician; and general morale booster
around Cork. He was creative director of sketch comedy troupe and production company,
CCCahoots, who had several critically acclaimed RTÉ TV shows. Since going solo, his
political comedy sketches have earned millions of views on Twitter, as well as the acclaim of
such comedy luminaries as Armando Ianucci.
The first solo from Tadhg introduces you to Feargal; a downtrodden but cheery man
who fulfilled his lifelong dream of becoming an alcoholic. Using the Catholic calendar as a
roadmap, Feargal leads us on a surreal and hilarious journey with many poignant twists in the
hope of arriving at a sort of light at the end of the tunnel for the 'bright man'.
Described by The Irish Independent as a "…brave, risky performance. This is exciting work",
In One Eye, Out The Other was programmed in Dublin Fringe under the heading, 'shows that
defy categorisation'. IEOTO seems to be at a meeting point of stand-up comedy, storytelling,
and confessional monologue play. The show initially feels like a surreal character comedy
piece but the experience takes a turn for the dramatic and tragic when the reality behind
Feargal's tall tales, heartbreakingly emerges.
Tadhg is very open about his own alcoholism, and wanted to create a show that'd offer
something fresh to discussions about alcoholism/addiction and mental health without being
preachy or depressing! His aim was to disarm with surreal humour and sneak the poignancy
in the back door.
–
Most Nominated Show at Dublin Fringe Awards 2019
"This sorry tale is extremely well written and incredibly emotive. Brought to life by an
exceptional performer, In One Eye, Out the Other is not to be missed." – Broadway World
"Great art. A vital catharsis. I laughed until I cried. Go see it." – Sunday Independent
"Both funny and poignant; a brave, risky performance. This is exciting work" – The
Independent
"Illuminating. Affecting in surprising ways. Feargal's story will stay with you for days" –
Sunday Business Post
"Absolutely brilliant. Watch out for the ending!" – Mario Rosenstock