Call of the Sea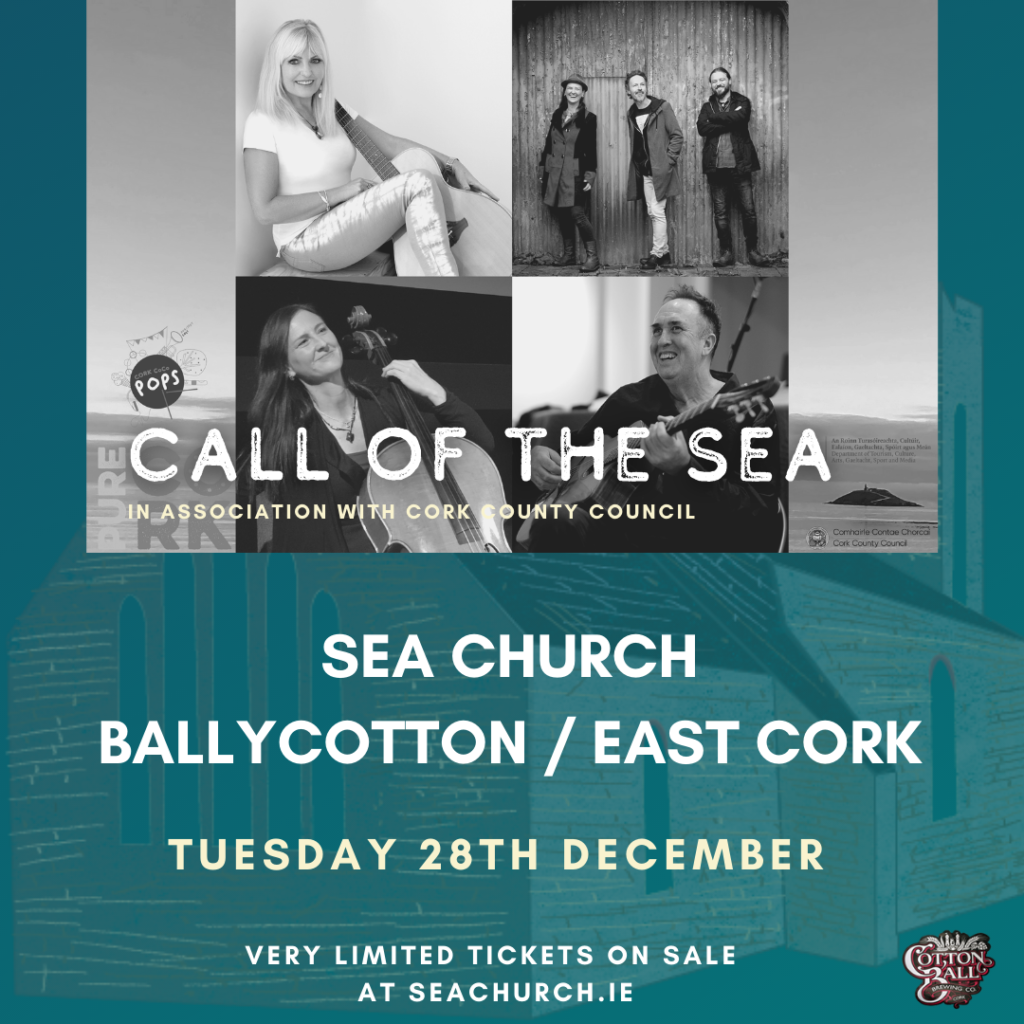 December 28, 2021
@
6:00 pm
–
8:00 pm
Call of the Sea – Take note all lovers of acoustic music.
Sea Church, Ballycotton hosts a group of East Cork Musicians for a night of
uplifting acoustic music flowing between cello, solo guitar, innovative folk/trad, and
award winning singer-songwriting. Ending the year on a positive note.
This exciting event will provide plenty of opportunity for all you lovers of guitar, cello,
voice, bouzouki, whistles and Bodhrán to hear these amazing musicians.
This event swings into action on 28 December, with plenty of excitement, deep groove,
beauty and uplifting sounds expected.
World-renowned cellist Ilse de Ziah, brings together these four different acts from the
local area to showcase the enormous locally based talent.
IAN DATE, master guitarist has played on more than 70 albums either as a sideman or a
leader. He has played all over the world and has performed with many great musicians.
Firmly rooted in the jazz tradition equally at home on the acoustic or electric guitar. Ian
produces breathtaking original arrangements and compositions. Critics have described
his playing as "endlessly inventive, lyrical and always exciting."
https://iandate.com
THE DIVINERS Blend invention with tradition, new compositions with old. They are an
innovative traditional and folk band from Cork, Ireland. Accomplished multi-
instrumentalists – what sets them apart is the depth and authenticity of the songs and
tunes they compose. With a dynamic line-up, including Ilse de Ziah, the music they create
is rich, deep and compelling. Mining the tradition while forging ahead with the new, the
sound they make is unmistakable. The power and diversity of their arrangements, their
unflinching regard for audience, makes THE DIVINERS in concert an experience to
remember. Praise for their first single in this line-up, Battle of the Starlings; "instrumental
melodies that are haunting but also uplifting…stirring vocals…beautiful."
THE DIVINERS are:
EOIN JORDAN: Bouzouki; Guitar; Five-String Banjo; Bodhrán; Vocals.
CIARÁN RUBY: .Whistles; Guitar; Flute; Shruti Box; Harmonica; Bodhrán; Vocals
ILSE DE ZIAH: Cello; Fiddle; Vocals
https://www.the-diviners.com
FIONA KENNEDY is a Singer Songwriter, recording artist & IRMA Award nominee. The
Cork singer has a long and superb track record, with many TV performances, including
her own one hour TV special 'The Fiona Kennedy Show' on RTE.
Her latest single 'Where Else Would You Get It', produced by Declan Sinnott (Mary Black/
Christy Moore) was released in September, with her previous single 'Place of my
Resurrection' going straight to number one in the iTunes Chart this year.
Fiona worked with another Irish music industry heavyweight, guitarist Bill Shanley (Ray
Davies/Gilbert O'Sullivan) on her last album 'The Beach' which she recorded in 2017 after
a hiatus that saw her concentrating on bringing up her 2 daughters after many years
performing internationally and in Ireland. Fiona is currently working on a new album due
for release in early 2022. Fiona and Ilse started performing together with Fiona's band this
year, and recently performed in the Cork Jazz Festival and for the Shanley Sessions
Clonakilty.
"This talented Irish lady has the ability to change mood at the drop of a hat…. More
earworms than you can cope with" Progradar U.K.
https://www.fionakennedy.ie
ILSE DE ZIAH, a world-renowned cellist, performed on many albums, in concerts around
the world, and lectures in chamber music in University College Cork. She has produced
five books on Irish Traditional Music for cello, an award winning documentary 'Living the
Tradition', and released two solo cello albums. She is co-Artistic Director of the Midleton
Arts Festival and runs the Irish Cello Retreat for cellists from around the world in Garryvoe
Hotel.
"a gem glistening with grace and sparkle" Munster Express
https://playcellomusic.com
http://ilsedeziah.com
The idea behind the night is to have a really great time playing superb and uplifting
music with a repertoire that runs from jazz and blues to innovative folk/trad, and award
winning singer-songwriting! The event is expected to attract a huge crowd out for a
thrilling time!
Ilse says "I am really excited to present "Call of The Sea" at Sea Church in Ballycotton,
and can't wait to present this high quality music for your listening pleasure. I am so happy
to be out playing again and to perform and feature with my favourite local performers. I
know you are all going to love them. It will be the East Cork event of the year!"
The Sea Church said, "We are very pleased to have music of such high quality and we
know it is going to be a hit with everyone. These are world class musicians and what they
present they is a lot of fun and musically superb. We are pleased to present this concert
which is made possible by the assistance of the Cork County Council which enables us to
support these local professional musicians and to showcase the immense talent available
in our area"
In the time between Christmas and New Year we can all feel adrift, so Heed the Call of the
Sea, let the tide uplift you and deliver you to Ballycotton Sea Church to swim in a world of
wonderful sound and song.
If you are tempted by the sounds of this acoustic music and wonderful singing then put
this date in your diary. Add a night of celebrating locally based talent to your calendar and
get ready to heed the "Call of The Sea"
"There is a tide in the affairs of men and women, Which taken at the flood, leads on to
fortune. Omitted, all the voyage of their life is bound in shallows and in miseries. On such
a full sea are we now afloat. And we must take the current when it serves, or lose our
ventures" – William Shakespeare